---
TICO's AGM updates registrants on regulatory review, consumer campaign & more!
TICO held its Annual General Meeting (AGM) on June 25, 2019 at its new office complex in Mississauga to share key activities from the previous fiscal year.
Regulatory Review Update
TICO continues to collaborate with the Ministry of Government and Consumer Services (MGCS) on proposed regulatory updates for the sector. There are three key goals related to the regulatory review:
Enhancing consumer protection
Reducing regulatory burden on Ontario businesses
Seeking further regulatory and regulator efficiencies

TICO was pleased to welcome Michèle Sanborn, Assistant Deputy Minister (Acting) of Policy, Planning and Oversight Division at MGCS to its AGM. Ms. Sanborn updated attendees about the government's priorities of enhancing digital services for Ontarians while reducing burden on businesses. Ms. Sanborn said TICO is making good progress on both fronts. She added: "As the organization designated to administer and enforce the Travel Industry Act, TICO has helped create good standards of practice throughout the industry that benefit Ontarians. Your work promotes a fair marketplace and helps consumers make purchases from travel agents and wholesalers knowing they are protected."

Ms. Sanborn also reminded attendees that while there were legislative changes in 2017, for those to take effect, the new regulations under the Travel Industry Act, 2002 need to be developed before the amended law can be proclaimed and come into force.

In the report from the CEO, Richard Smart told AGM attendees: "While there is still much to be done, the regulatory review is important for TICO and the government. As always, our goal is to allow you the time needed to ensure a fair and smooth implementation. Our commitment is to keep registrants informed along the way."
TICO's Consumer Awareness Campaign Encourages Ontarians to Book Travel with a TICO-Registered Travel Agency or Website
TICO's latest consumer awareness campaign reached new heights with a predominantly digital campaign that included video, online ads, placements at Yonge Dundas Square and Toronto's PATH network, and more.
---
"We want to ensure consumers are aware of the underlying protections available to them," said Richard Smart, TICO's President & CEO. "To ensure they are protected to the best of our abilities, and that Ontario is a trustworthy marketplace where consumers can confidently spend their hard-earned money on travel."
---
The star of the campaign was a life-sized Asterisk, representing any missed details that could derail a consumer's travel plans. The marketing campaign was seen nearly 23 million times by Ontarians and encouraged them to book their travel with a TICO-registered travel agency or website.
Corporate Social Responsibility (CSR)
As part of TICO's commitment to philanthropy, TICO staff support causes including the Mississauga Food Bank and Plan Canada by fundraising throughout the year. In 2018-2019, TICO staff had a goal of raising $5,000 for Plan Canada, and proudly exceeded that goal. TICO's employees creatively raised $5,182 through jeans days, cook-offs, and silent auctions.
By supporting Plan Canada's matched gifts program, where monetary donations are matched by government and foundations, TICO was able to equip two schools, install one water system, and contribute 35 other gifts that promote healthcare, literacy and education.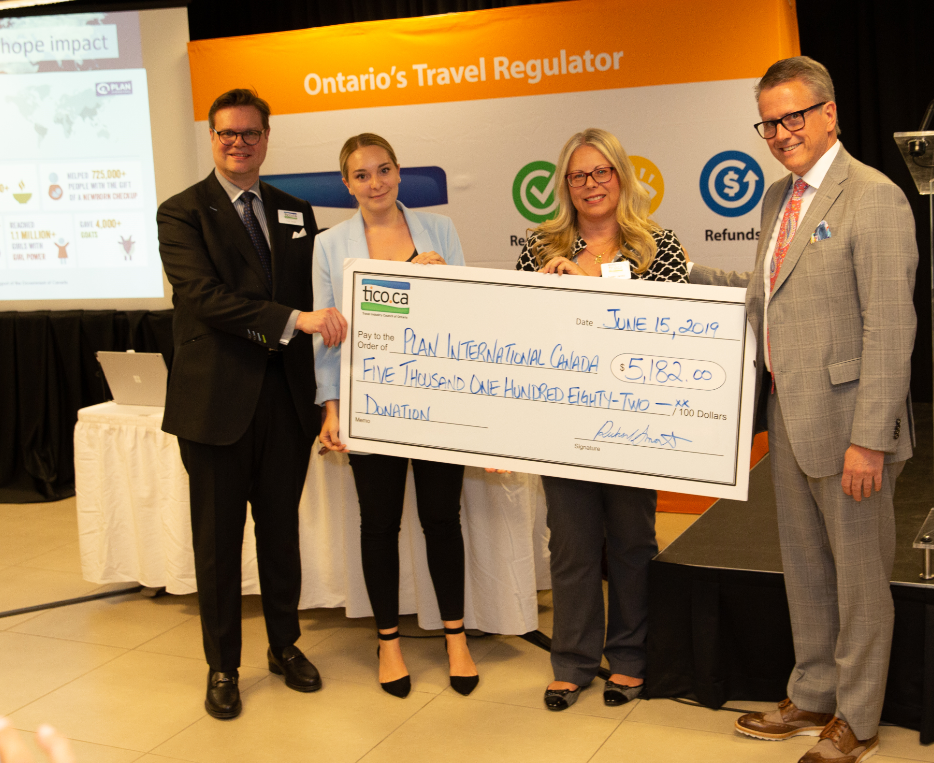 TICO's CSR Co-Chairs present cheque from staff fundraising efforts to Plan Canada
(L-R Tim Snell, Lauren Adams (Plan Canada), Suzie Janko and Richard Smart)